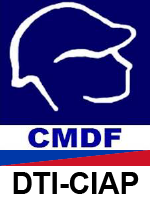 The Construction Manpower Development Foundation (CMDF) is the human resource development arm of the construction industry. It was under P.D. 1746 as one of the implementing Boards of the Construction Industry Authority of the Philippines.
CMDF is mandated to enhance the competencies and capabilities of the human resource of the construction industry with the end-goal of making the industry globally competitive. CMDF Competency Assessment and Certification flagship programs include (1) Enhanced Construction Managers' Training and Certification Program (2) Trainers' Certification Program (3) Construction Supervisors' Training and Certification Program and (4) Foremanship Training and Certification Program. CMDF also conducts Productivity Training Development Programs which include (1) Construction Management Courses (2) Technology/Supervisory Development Courses (3) Safety & Health Training Courses (4) Productivity & Skills Upgrading Training Courses (5) Orientation Seminar for Students (6) Construction Managers' Training Program.
CMDF also has satellite officers in Cebu City and Davao City and the Construction Manpower Development Center located in Dasmariñas, Cavite.
We offer the following courses under CMDF:
For more information visit: cmdf.dti.gov.ph